Prisoners at the Inyo County Jail can claim a new kind of productivity – vegetables.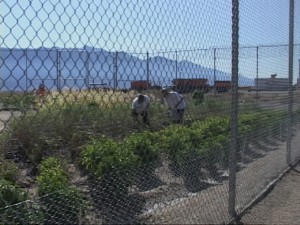 Sheriff Bill Lutze said that the inmates have cultivated the large garden on the south side of the Inyo Sheriff's Department and jail in Independence. Sheriff Lutze said that the array of freshly grown food already helps feed the inmates.
Future plans include an entire acre for cultivation behind the jail. Sheriff Lutze said the vegetables will feed the inmates and others. He said that the juveniles in the detention center across the street will grow seedlings in their greenhouse to help the jail effort.
This is just the latest in Sheriff Lutze's work program for inmates. Lutze said low-security prisoners are busy landscaping at the jail and cleaning up areas around many Inyo towns. With the Conservation Camp inmates busy firefighting, Inyo's prisoners will fill in with clean-up work.