A young couple from Reno, Nevada with their infant daughter collided with a cow and then a tree on Highway 395 north of Bishop. This accident offered a dramatic example of the importance of child safety seats.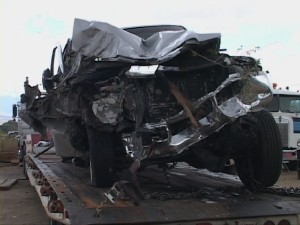 Bill's Towing in Bishop had retrieved the wrecked vehicles. The Highway Patrol said that 26-year-old Joseph Hummer of Reno was at the wheel of a Ford pick-up. His wife, Veronica Hummer, 24, was curled up in the front seat. It was about 11:30 Friday night. The CHP said Mr. Hummer was also towing a 20-foot camper trailer. As he headed south into Bishop, Hummer saw a black cow standing in the southbound lane.
The man could not stop in time. He hit the cow and then made a sudden, sharp right turn and went off the south roadway edge. The CHP said the driver collided with a 5-foot diameter tree at approximately 50 miles per hour. The vehicle sustained major front-end damage. The cow was killed. One of the couple's pet dogs was also reportedly killed in the accident.
A testimony to the effectiveness of child safety seats – the couple's two-month-old infant daughter was properly fastened in a child safety seat and did not sustain any injuries. The driver suffered major injuries, including a broken ankle. His wife also suffered broken ankles and neck pain. They were all wearing safety equipment and air bags did deploy.