The fire continues to produce very minimal smoke as crews continue to mop-up hot spots. Pumps and hoselays are in place to continue securing handlines and protect nearby cabins in Long Canyon and Ninemile Creeks if needed. Mop-up operations continue on the southwest corner and south side of the fire.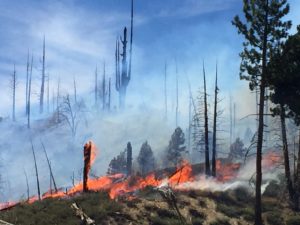 Two firefighters have reported illnesses but there have been no reported injuries to date. Firefighter safety is the top priority. Snags (standing dead trees), heavy surface fuel loading, decadent brush and rugged terrain remain a substantial safety concern. Crews are taking all necessary measures
to avoid or mitigate these hazards. In addition to handlines, crews are using existing trail systems and natural barriers for containment using Minimum Impact Suppression Tactics (MIST) to help protect wilderness values and character in the Golden Trout Wilderness. Crews are also being supported by US Forest Service pack stock. There is currently no threat to life or property.
The horse coral at the Black Rock Trailhead is currently full, which is being used by the U.S. Forest
Service pack stock.
The forest has ordered a closure of the following trails due to the fire and the substantial hazard created
by falling snags:
 Casa Vieja to Redrock Meadows via Jordan Hot Springs
 Casa Vieja to Redrock Meadows via Lost Trout Creek (Beer Keg Meadow)
 Redrock Meadows to Templeton Cow Camp
 Redrock Meadows to Little Whitney Meadow