The Indian Fire continues burning in the Golden Trout Wilderness north of the Jordon Hot Springs at 8,400 feet. So far, this fire has consumed 2,267 acres. At the time of today's press release, is 20% contained. Thanks to the hard work of 10 crews, 6 helicopters, 1 air attack fixed wing, and 275 personnel.  This fire, like several of the other current fires, appears to be lightning caused.
There hasn't been a lot of smoke from the Indian Fire. According to the U.S.D.A.'s Wildland Fire Air Quality Response program, only light smoke production expected Thursday and Friday. Very light transport winds with an easterly component should continue to keep any smoke out of the Owens Valley. Increasing hazy conditions but little smoke to local valleys as high pressure builds over the area. Haze with light smoke aloft, especially to the north, will be present in the foothills and Central Valley.
We received the following press release from The U.S. Forest Service & The U.S. Department of Agriculture, about the Indian Fire.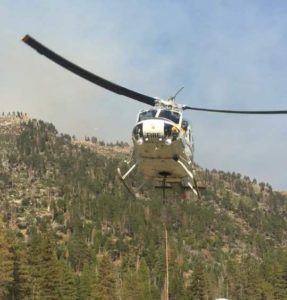 The fire is producing very minimal smoke and crews have continued working diligently to get direct and
indirect handline around the perimeter of the fire. Acreage has decreased as a result of more accurate
mapping. Pumps and hoselays have been deployed to begin securing handlines and protect nearby
cabins in Long Canyon and Ninemile Creeks if needed. Mop-up operations have begun on the southwest
corner and south side of the fire.
Firefighter safety is the top priority. Snags (standing dead trees), heavy surface fuel loading, decadent
brush and rugged terrain remain a substantial safety concern. Crews are taking all necessary measures
to avoid or mitigate these hazards. In addition to handlines, crews are using existing trail systems and
natural barriers for containment using Minimum Impact Suppression Tactics (MIST) to help protect
wilderness values and character in the Golden Trout Wilderness. Crews are also being supported by US
Forest Service pack stock. There is currently no threat to life or property.
The horse coral at the Black Rock Trailhead is currently full, which is being used by the U.S. Forest
Service pack stock.
The forest has ordered a closure of the following trails due to the fire and the substantial hazard created
by falling snags:
• Casa Vieja to Redrock Meadows via Jordon Hot Springs
• Casa Vieja to Redrock Meadows via Lost Trout Creek (Beer Keg Meadow)
• Redrock Meadows to Templeton Cow Camp
• Redrock Meadows to Little Whitney Meadow