By Deb Murphy
Tree huggers are alive and well in Independence, as evidenced by Tuesday's Inyo County Board of Supervisors' meeting.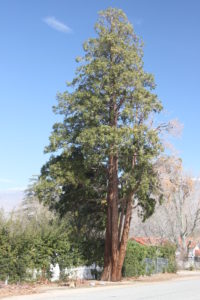 Residents came to the defense of a cedar tree within the County's right-of-way on Market Street. The owner of the adjacent home had asked Publics Works to cut the tree down, fearing it was dying and a hazard to the property.
Speakers not only defended the tree but blasted the County's tree-trimming competence, urging Public Works to hire an arborist or provide training to the tree-trimming crews.
Supervisor Jeff Griffiths, referring to the board packet report from Eastern Sierra Tree Service, said the tree was in declining due to lack of water. The report further stated the cedar was in decline due to its age, but an aggressive watering regime could extend its life for, possibly, decades. Griffiths also agreed that perhaps County crews "needed a tune-up,"
Nancy Masters told the Board the Independence Civic Club was working on a cooperative tree watering program, complete with a water wagon. The club, as well as a new Independence resident who had been tutored on appropriate tree-watering protocol by neighbors, volunteered to make sure the cedar got the appropriate attention.
"Cedars are drought-resistant," Masters said. "It should be okay."
Chair Rick Pucci agreed to table the agenda item. Public Works' Chris Cash said the department wouldn't take out the tree. The cedar will be allowed to age gracefully.