This week, Independence citizens try to wrap up a protest effort to stave off a 600% sewer rate increase for homes, businesses, the courthouse, jail and school. DWP officials say they have to raise rates to pay costs of the sewer system, but another motive seems an effort to pass off the system to someone else.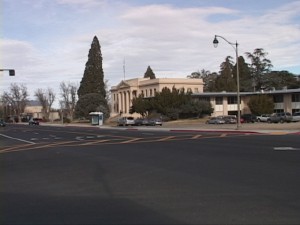 Charlotte Rodriquez of DWP did say that higher rates would make it more attractive for anyone to take over the sewer system. She also confirmed that DWP has had preliminary meetings with the Independence Community Service District to take on the sewer. A CSD board member confirmed that they are in talks with DWP. Arlene Grider said that the CSD would have to go through a formal process before being allowed to take over the sewer. She said it would require a public vote.
Grider said there are a lot of questions and research required. "We need to known about the system inside and out," she said. What about costs and liabilities? Grider said the State would require a business plan. Grider did confirm that Inyo County has once more asked the CSD to take over the water system.
Independence, once a town of more than 1,000, has now dwindled to less than 500. Can the community withstand the burden of operating a sewer system and a water system – both aged and in need of upgrades?
DWP had successfully dumped the water system under the Long Term Water Agreement. The County failed to get enough money to fully upgrade the system.
Grider said that the State would require a Capital Improvement Fund for whoever runs the systems. The County would have its own bureaucracy to lean on for grant applications and support. The tiny town and its diminished and aging population have each other.
Grider admitted that these are very serious actions to take. She urged public participation at CSD meetings which take place the third Tuesday of every month at 6pm at the Owens Valley School Community Building. The next meeting is set for January 19th.
Meanwhile, property owners have been signing protest letters against the sewer rate hikes. Proposition 218 says that if 50% plus one oppose the rate increase, DWP can not go forward with them. This issue is set to come up at the DWP Commission meeting Tuesday in Los Angeles. Nina Weisman of Independence said she will drive the protest letters to DWP headquarters.