For eight months, Granite Construction and Caltrans have torn up and built a new highway through the town of Independence. As a result, the local small businesses say they have largely lost a good third or more of their revenue over that time. They have received no compensation from Caltrans, according to the owners.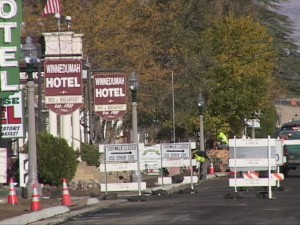 Sam Sharma, owner of Valley Market and Chevron, is selling his business because of the revenue loss. He said that sales are off by 32% compared to last year. Sharma did file a claim to be paid for damage done to his property, he said. Caltrans rejected his claim and paid him nothing. Sharma said he and the Shell Station have been particularly hard hit by loss of customers.
Sharma feels Caltrans should compensate him to some extent. "It's a small town economy," he said.
The highway remains torn up on the west side of 395. Engineers had earlier said the project would wrap up near the end of October. The entire construction job has lagged behind schedules from the start, back in March.