In an effort to clear his name from the attacks on him in a memo from the Mammoth Lakes Police Officers Association, local bear man Steve Searles stepped up to the podium during public comment at Wednesdays Town Council meeting.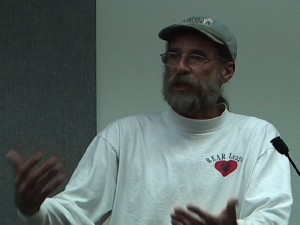 According to Bear With Us Treasurer Marianne OConnor, she had asked that the bear issue be added to the agenda but had apparently been denied by Town Manager Rob Clark since it did not appear.
Searles explained that the attacks in the letter from the MLPOA had caught him flat-footed. He pointed out that he had no problems with any of the police officers and even after the memo could not conjure up one bad thing to say about them. Searles also pointed out that during his 12 years of service to the Town of Mammoth Lakes he had been paid less than $4,000.
The bear man went through several points of the letter to rebut the accusations, such as the one that said he had been unable to put down a sick bear and made it suffer unnecessarily. You know Im not scared of the trigger and I dont want to see an animal suffer, Searles said.
The letter, which police said was never meant to be made public, has caused a rift not only between Searles and the MLPOA but also between police and Councilman John Eastman, who broadcast the letter to the community.
Officer Jesse Gorham, who serves as the President of the MLPOA, got up after Searles and spoke on behalf of the police officers.
This has been the most tumultuous two weeks the town has ever seen, said Gorham. Right now this issue should take a backseat to the Towns financial crisis.
Gorham, however, extended an invitation to any Council member, especially Eastman, to come sit down privately with the MLPOA and discuss the matter that he claimed has nothing to do with Steve Searles.
We feel this has been an insult to the integrity of the department and we leave an open invitation to meet with any Council member, Gorham concluded. Since the item was discussed during public comment, Council was unable to take any action.
However, Councilmen John Eastman and Neil McCarroll made it clear they will move forward with plans approved by the Council to work out a proposal to hire Searles. Eastman said he and McCarroll will meet Monday and they hope to sit down with Searles on Tuesday.
Eastman also confirmed that he planned to meet with police officers Thursday afternoon.