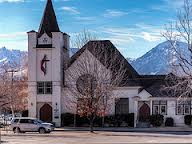 With an army of volunteers, the annual Christmas Dinner in Bishop will roll out in the Methodist Church Social Hall on Fowler St. on Christmas Day.
A year ago, the dinner's future looked somewhat uncertain, but the matrix of dedicated volunteers and donors wouldn't let it go away. Bishop City Councilwoman Laura Smith has stood at the helm this year. She said the organization is "coordinated like a very talented orchestra."
When the event switched from the Bishop Senior Center to the Methodist Hall last year, Smith said over 300 people sat down to enjoy Christmas dinner. And, not just dinner. The festive event is marked by live music, carols and a huge array of food.
Dessert is a potluck, so those who wish may bring their favorite sweet dish. Smith said if participants know of people who are unable to come to the dinner, there will be to-go boxes.
The requirements to dine are simple. On Christmas Day, show up from 12:30pm to 3pm and have yourself a Merry Little Christmas!