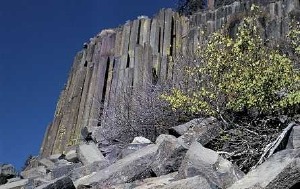 The more than two-week federal government shutdown ended Thursday morning when President Obama signed a bill that resumed government operations and raised the debt ceiling.  The whole ordeal angered Americans giving Congress, and particularly the Republican Party, very low approval ratings.  The bill just signed only resolves differences until mid-January.
In the Eastern Sierra, operations in the U.S. Forest Service, BLM, Yosemite, Death Valley National Park and Manzanar Historic Site were set to re-open.  Early fall tourism in Inyo and Mono was interrupted by the shutdown which closed campgrounds, ability to get hiking permits and parks generally.  Devils Postpile National Monument submitted the following press release:
Devils Postpile National Monument Reopens to Visitors  (Press Release)
Mammoth Lakes, CA – Devils Postpile National Monument re-opens to visitors today. Visitors can access public areas and roads immediately while facilities and other public services are brought back online. Devils Postpile National Monument has been closed since October 1 due to the lapse in Congressional appropriations.
As autumn temperatures are moderate in the daytime, but well below freezing at night, all water systems are shutdown, so bring water. The vault toilet is open at the monument. Bring food, sunscreen, and other necessities as no services are open in the valley. On adjacent Inyo National Forest lands, the restroom facilities are closed at Rainbow Falls Trailhead. The vault toilets at Agnew meadows Pacific Crest and Shadow Lakes Trailhead, and Sotcher Lake will open as staff returns to work and is able to reopen. There is no overnight parking within the valley effective October 15 as the monument and valley road access may close due to weather anytime between now and the annual seasonal road closure on October 31.