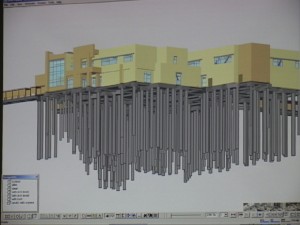 A large part of the work, sweat and expense for the new hospital in Bishop centers on state bureaucracy. The Office of Statewide Health Planning and Development okayed the demolition of the old hospital building but the had a change of mind and demanded a hugely extensive foundation with a much bigger price tag.
Hospital officials, engineers and state bureaucrats negotiated the situation. Some have said that the foundation demanded by the state is major overkill for a two story hospital building.
The depth and extent of the foundation was revealed when Turner Construction offered a virtual tour of the new building plan. Foundation rods extend very deeply into the ground as much as twice the height of the building.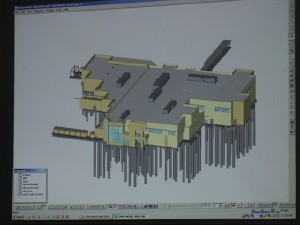 One official said that the extensive foundation would mean that in an 8.0 earthquake, the only thing left standing would be the new Northern Inyo Hospital. That's a good thing, if the price tag is not too overwhelming.
It was the acceptable foundation that finally triggered issuance of the demolitiion permit from the State.