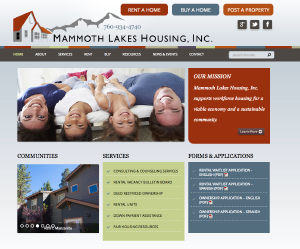 The people who try to help find or create affordable places to live in Mammoth Lakes recently upgraded their website with features to help connect people with homes.
In a press release, Mammoth Lakes Housing, Inc. said the new website, which is www.MammothLakesHousing.org, includes a Rental Vacancy Bulletin Board where local landlords can post available rentals for free. They can also post photos of their rentals. Prospective tenants can sort rentals by price and size. All listings will now automatically expire after 30 days to keep postings current. The site also provides information on first-time homebuyer programs and fair housing, as well as information on Mammoth Lakes Housing itself.
Executive Director Jennifer Halferty said the website strives to "secure a renewed community commitment to workforce housing" through outreach and education. Halferty said one of the goals is to offer online access to individuals regarding "products and services in an effort to help improve their ability to find a place to call home."
The press release says that the Mammoth Lakes Housing Board made website improvement a priority. They chose Mountain Studio, a web development and PR firm based in Bishop. Officials said the idea is to make buying or renting a home more accessible in the Eastern Sierra.
Julie Faber, owner of Mountain Studio, said the site was designed to accommodate computer desktops, tablets and smart phones. She said that already 30% of the clientele accesses the website through a mobile device or tablet. Check it out at www.MammothLakesHousing.org.