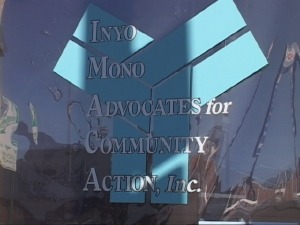 Jane McDonald, the former Community Services Director of Inyo-Mono Advocates for Community Action, won the admiration and respect of many local citizens through her work to make sure people here have enough to eat.  She spearheaded the "Planting for Hope" program that taught hundreds of low income families how to grow their own food. She was instrumental in creation of community gardens up and down the Inyo-Mono area. McDonald so inspired others that when she was suddenly fired, they stood up to defend her and her work. Residents now say that the new IMACA director has failed to return phone calls and letters about the future of garden programs.  Director Lynn Bethel also refused to talk to us and only emailed back vague answers to our pointed questions.
IMACA's website says the agency operates about a dozen programs with a $3.5 million annual budget.  Recently, Director Daniel Steinhagen retired and Lynn Bethel took over as the new director.  Before he left, Steinhagen fired Jane McDonald.  For about a year, according to reports, Steinhagen had been living in Oregon and traveling to Bishop for board meetings for an undisclosed salary.
We spoke with some who worked with Jane McDonald and had voiced their strong dismay about her termination and the uncertain future of garden programs.  At a late September IMACA board meeting, the public comment period was filled with concerned citizens.  They said the board and new director gave no response to their concerns then and still haven't.
Hannah Murray, Master Gardener coordinator for Inyo and Mono Counties, said the University of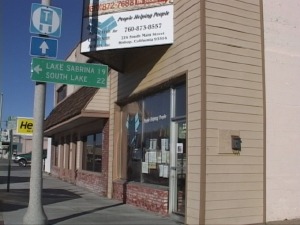 California had a partnership with IMACA through the "close collaboration with Jane to empower people to grow their own food."  Murray said she sent a letter to IMACA after McDonald was terminated.  She asked what role the gardening program would now take.  As of news time, Murray had never received a response.  She said others have written to IMACA with the same concerns.  Said Murray, "There were a lot of letters and no response."  Murray said Jane McDonald collaborated with her on workshops, bilingual training and some 14 community gardens.  Said Murray, "Jane integrated the gardens with the IMACA food bank."
Julie Fought (Foat) and her partner donated land at their Delacour Ranch above Lone Pine.  Fought said she was a board member of IMACA.  She said that McDonald's termination would "undermine the progress of the garden programs."  She too spoke of the September meeting and "the many community members who stood up to express concern about Jane and the future of the programs.  "IMACA had no answers," said Fought.  She resigned and said that the firing of McDonald was "like saying we don't care about you to all of the citizens involved."
Maggie Phelps worked with McDonald on garden projects for two years and said she was "impressed with her support, enthusiasm and ability to build collaborations up and down the Valley.  She got me involved," said Phelps.  She said when she heard McDonald was fired, she was "upset.  There didn't seem to be a valid reason."  Phelps talked to former Director Daniel Steinhagen who terminated McDonald.  Phelps said he told her "I don't make mistakes."  Phelps pointed to Steinhagen's move to Oregon.  She said, "How can someone supervise IMACA from Oregon?"
Methodist Minster in Independence, Reverend Erin McPhee was among the ten or so people who spoke at the September IMACA meeting.  She said, "What Jane did was connect community gardeners with grant money, seeds, tools, plants,  and volunteers."  McPhee has also tried to contact IMACA with no response.  She called the garden program in Independence essential. McPhee said, "It's providing food for people and has been a method of connecting community members.  Produce swaps grew out of the program and so did hope for the town."
Pastor McPhee had said at the September meeting that "I have always been impressed by Jane's work ethic and her passion for helping and empowering others."  McPhee said she was "hard-pressed to find anyone who more passionately lives out IMACA's mission statement in their daily life and work, both paid and unpaid."
McPhee called McDonald's firing insufficiently investigated and "unethical".   The Pastor said that the IMACA Board has to take responsibility for what has happened. To the Board, Reverend McPhee had said, "I hope and pray that you will be willing to do what is right so that we can continue the powerful work that Jane began."
In light of the community upset over the uncertainties of the garden program, we asked Director Lynn Bethel some questions.  She refused to speak on the phone and would only answer emailed questions.  To the firing of Jane McDonald, Bethel wrote that "Personnel issues are confidential."  To the repeated concerns that she would not answer letters and calls, Bethel said, "IMACA welcomes public comment at each Board of Directors meeting."
Bethel said IMACA administers the Planting Hope program but did not comment on partnering with all the local citizens and land owners.  Bethel also wrote that she looks forward to "strengthening the long-time collaborations that IMACA has."
Jane McDonald filed a grievance in response to her termination.  She also has received no response.
The next IMACA board meeting is November 15th at 2pm in the Title Building in Bishop.