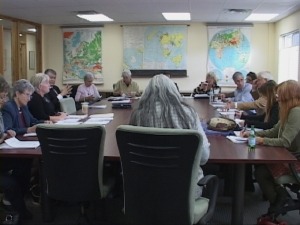 Inyo-Mono Advocates for Community Action works to get food to those who need it, manages low-income housing, the Headstart Pre-school and other programs.  But, it was the expanding garden project that has made news.  IMACA's Community Services Director, Jane McDonald, spearheaded "Planting for Hope" which bloomed into more than a dozen community gardens and produce swaps.  McDonald was inexplicably fired and those who invested time, money and land in the popular projects said they were ignored by IMACA and left to wonder about the whole garden project.  At a meeting of that agency on November 15th, officials had no explanation for the lack of response to community concerns.  They did hold a closed session about McDonald and severed relations with one of the garden project land owners.
Board members talked about a memorandum of agreement with Delacour Ranch in Lone Pine where one of the garden projects had unfolded on donated land.  New Executive Director of IMACA, Lynn Bethel, recommended to the board that IMACA sever relations with Delacour Ranch. She described current negotiations with Coale Johnson of the ranch as "not easy."  Board member Bill West suggested moving the garden to somewhere in Bishop.  Chariman of the Board, Raymond Andrews, said he was concerned about severing relations.  He said, "People in Lone Pine are our neighbors.  We need to help them become self-sufficient."  He said Director Bethel is new.  "The Lone Pine people, he said, "are our people.  We should treat them with respect."
Justin Ortega, the newly hired Community Services Director, suggested a different location in Lone Pine. Other officials wanted to know what the consequences would be if IMACA severed ties with Delacour Ranch.  Director Bethel said, "More negative and misrepresentative press and perhaps," she said, "Metabolic Studio will not continue funding us."  She suggested partnering with Master Gardeners and Altrusa.  "We can train our own gardener in-house," she said.
In days before this meeting, those involved in the IMACA garden program – the head of Master Gardeners, a minister, a land owner and a volunteer – commented that they felt ignored by IMACA, unclear about the future of the garden projects and very disappointed in the loss of Jane McDonald. Director Bethel did not return any of our phone calls and finally emailed vague answers to written questions.
Board members did not address the published comments of citizens but did vote to severe ties with Delacour Ranch and the garden there. Director Bethel said she had "repaired relations with Altrusa", another agency that had partnered in the garden project.  Board member Bill West said he spoke with Reverend Erin McPhee who had expressed deep concerns over IMACA's behavior.