Mammoth Police have another case that involves a surveillance camera and the image of a theft suspect.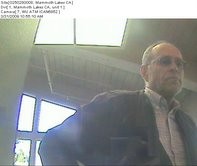 Detective Doug Hornbeck said that on March 31st, a woman used the ATM at the Bank of America in Mammoth Lakes. She forgot to remove the ATM card from the machine. The detective said that a man behind her used the card to take $200.
The ATM machine then drew the card inside. The victim later retrieved her card and discovered someone had stolen $200 from her account.
If you recognize this man or have any information about him, please contact Mammoth Police Detective Doug Hornbeck at 934-2011, extension 17 or send an email to [email protected]