A startling report from Mammoth Lakes today a local man hiking in a very remote, mountainous area east of Minaret Mine found several pieces of identification that apparently belong to missing aviator Steve Fossett.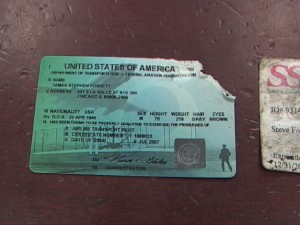 Tom Cage, owner of Kittredge Sports, said that his employee, Preston Morrow, hiked into what he described as a very, very remote area east of Minaret Mine above Mammoth Lakes on Monday. Cage said Morrow saw $100 bills lying on the ground and then pieces of identification. He put them in his pocket and showed Cage when he returned to work on Tuesday. Cage said one of the Ids was a glider pilots license. The name on the ID was James Stephen Fossett.
Cage said he notified the National Aeronautical Association. He and Morrow returned to the site in the mountains to get a GPS co-ordinate for law enforcement. This morning, Cage and Morrow turned over the ID and cash to the Mammoth Lakes Police and the Mono County Sheriffs Department.
When asked if Morrow saw aircraft wreckage, Cage said he did not, but the area is so rugged that an aerial search would be required to really know.
Major media in Southern California began to immediately respond to local reports and to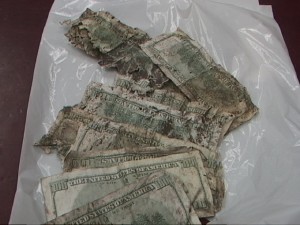 descend on Mammoth Lakes. Cage commented that the area where the ID was found seems to be right off the search grid from last year. Some unconfirmed reports indicated that a psychic had pinpointed the Mammoth Lakes area last year but no search was ever conducted.
Cage did say that the name and date of birth on the pieces of identification do match those of missing aviator Steve Fossett.
The identification and cash were found just across the county line into Madera County, which will now handle the search on this incident. Mono County Sheriff Rick Scholl said that the Mono Search and Rescue Team would work with Madera County on the search for Fossett's body and aircraft.
Fossett, famous for a reported 100 world records in aviation feats, was last scene in September of 2007 when he took off for a short flight from the Flying M Ranch in Nevada.
A widespread search by the Civil Air Patrol, law enforcement and private pilots turned up no sign of the famous man.
Preston Morrow said he found the Fossett ID and cash while on an evening hike below the Minaret Mine near Mammoth.
Morrow said he just hopes that the discovery brings closure for the Fossett family.