Ian Alexander Lindsay, born in Aldershot , England on October 26, 1931, by Mary Ann and James Lindsay (Scotland) passed away on July 22, 2016 at the Bishop Care Center .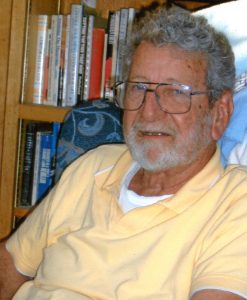 Ian attended the Royal Caledonian School with his two brothers, Gordon and Kenneth, for 12 years.
He was and adventurous sort, he came to America at the age of 18, he lived with his aunt in Utah for a couple of months, and then moved to Los Angeles. He volunteered for the Army during the Korea War and was refused due to being a British National; 3 months later he was drafted. He served 2 years and applied for and received his U.S. Citizenship.
He worked in the Photo/Lighting Industry, finished his education, (engineering) then worked in aerospace at Hughes Aircraft.
Ian and Freda raised three children, he retired in 1994 moved to Bishop to be a "gentleman farmer" and instead he became part of the community attending his wife's church, Religious Science, each Sunday.
He loved fishing, his garden and his dogs. The Lindsay's bought a big house in 1979 and became foster parents for many years.
He was active in the Elks; Chairing the casino night, Eastern Sierra Breast Cancer Alliance, served on the Inyo Co Finance Committee with John Tracey, and each Thursday afternoon he visited the Retirement home and played cards and scrabble with the folks.
He was always available to pass out flyers or flipping hamburgers at the County Fair.
He left behind his wife Freda of 44 years, his brother Kenneth (Australia) his children Mark (Sacramento), Elizabeth (Granada Hills), Lisa (Burbank), grandchildren, Kimberly, Katie, Nathan, Evan, Alex, and Violet, great grandchildren, Gabriel, and Callie and Emily. His cousin and family in France and his best friends Mugzy and Fonzy his 2 dogs. Ian lived a full rich life and was a great father, mentor and a friend to all who needed him.
Services will be held at a later date.