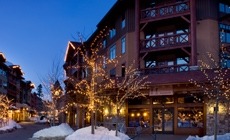 Partying and peaceful living sometimes just don't jive. Some condo residents in the North Village in Mammoth Lakes say that's the case with the Hyde Lounge and its loud music from 10pm to 2am. Mammoth Mountain CEO Rusty Gregory has been dealing with this issue.
Gregory said he has talked to one particular resident for more than a year. He said the music does comply with the local noise ordinance but that the vibrations and noise are transmitted through columns in the structure at North Village. Even though the noise level is not illegal, Gregory said "We acknowledge that the noise is a problem and it's something we're working on in earnest." Mammoth Mountain brought in sound engineers which worked for some residents but not for all.
Now, Gregory says, he's contemplating use of the Hyde space as a family restaurant instead. Noise, he said, is a small part of the reason. Gregory says he is focusing on families as a market segment and a restaurant that would offer lunches and apres ski. Gregory said the empty space that used to be Auld Dubliner and Fever would be designed for a new club. He said he is working with the partners at SBE which own Hyde. The idea would translate into a restaurant/ bar and live music.
Said Gregory, "This would create jobs, a better experience for families, plus evening entertainment. The Hyde, he said, may stay where it is. The CEO said that Mammoth and SBE are engaged in a joint venture but some of the new concepts may solve problems, he said. The Village, said Gregory, "is an animated urban space. Not every corner is peaceful and quiet. It's not for everybody."