The Mammoth Elementary School Parent Teacher Organization (MESPTO) is responsible for many programs and activities offered at the Elementary School.  The Husky Pup Fun Run is its biggest fundraiser.
Once again , the event, which took place on Friday, October 3, was a huge success!  This year, the event raised the most it has ever raised for the Mammoth Elementary School Parent Teacher Organization – over $33,000!  The hard work of over 100 volunteers and parents, teachers, staff, and of course, our hard working students, is greatly appreciated. THANK YOU EVERYONE.
And we thank the almost 60 sponsors who also supported our students and the event.  We couldn't have done it with out you:
24/7 Promos, Community Skis, Mammoth Brewing Co., The Franks and The Howell Family,
Alpenhof Lodge, Beglin Orthodontics, Bluebird Imaging, Booky Joint, CJ's Grill, John's Pizza Works, Mammoth Emergency Physicians, Mammoth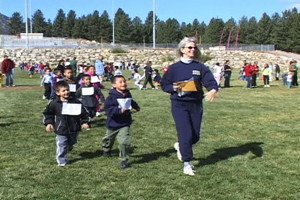 Fun Shop, Mammoth Hospital, Mammoth RV Park, Mogavero Orthodontics, The Sheet, Tim & Jena Wight – Peak Productions, Silver Lake Resort,
The Cameron / Lampariello Family, The Karch Family, The McConnell Family and The Westin Monache Resort
8141 Consulting, Absentee Homeowners Service, Boyer Construction, Footloose Sports, Good Life Cafe, Petra's / Clocktower Cellar, RDC Architecture, Roberto's Cafe, The Crall Family, The Lazar Family, The Ledesma Family, The Peterson Family and Vons
Baldwin Industrial Group, Base Camp Cafe, Bleu Handcrafted Foods, Burgers Restaurant, Chamber Music Unbound, Green Fox Events, Highpoint Solar, Laser Engrave Mammoth – Jenn DeAngelis, Jim Lynch Tile, Lakanuki, Mammoth Chevron, Mammoth Dental, Mammoth Lakes Women's Club, Mammoth Mountaineering Supply, Robert Lowthorp D.D.S., Sierra Door and Trim, Sierra Solar – The Chase Family, Snowcreek Property Management, The Clark Family, The Jones Family, The Lach Family, Tonik and Toomey's
The Students Who Raised the Most Money:
1. Kaitlin Schaubmayer $1220 Quirsfeld
2. Oden Gilbert $890 Maddock
3. Nevin Vanderhurst $885 Rosnau
4. Garrett Anderson $770 Tenedora
5. Tyler Jones $745 Hoffacker
6. Sage Harper $600 Leary
7. Stella Harper $600 Thompson
8. Stella Vanderhurst $565
9. Martin Walker $450 Underkoffler
10. Nicholas Walker $450 Glende
11. Maya Johnson $385 Oakeshott
12. Lana Sigumura $355 Mendez
13. Jovie Plum $350 Feeney
14. Leah Corsaro $300 Underkoffler
15. Tristan Carter $300 Feeney
16. Beckett Page $300 Mendez
17. Jasper Page $300 Quirsfeld
Thank you everyone for your support and hard work!
GO HUSKY PUPS!!