UPDATED 12:30 P.M. MONDAY
After a gut-wrenching loss for a title, the Mammoth High School boys soccer team quickly gets a chance for a comeback.
The Huskies willplay No. 1-seed Annenberg (Los Angeles) Tuesday in the Division 3 first round of the2011 CIF Southern California Regional Boys Soccer Championships. The match is scheduled to be played at West Adams Prep in LA with a 4 p.m. kickoff.
Mammoth gets the chance to keep playing in the state tournament despite losing 3-1 to Cate (Carpinteria) in the CIF-SS Division 7 championship match Saturday at Warren High School in Downey. Emilio Floresgave the Huskies a 1-0 lead about 25 minutes into the first half with a great steal and goal, but Cate scored in the first minute of the second half and added two more goals to claim the title.
Thestate soccer tournament consists of three divisions, with eight teams in just asouthern regional. Division 3 is for enrollments from 11-999, Division 2 for 1,000-2,299 and Division12,300 and above.
Annenberg (15-3-2) won the LA City Section championship;the road-tested Huskies (21-3-3) took would love to improve on their runner-up CIF-SS finish. The winner plays the winner of Sante Fe Christian and Salesian (LA) in Thursday's semifinals. Other Division 3 first-round matchups are Animo Leadership at Francis Parker and Carpinteria and Mendota.
###
The Mammoth High School boyssoccer team lost a CIF-SS title Saturday afternoon, but the Huskies' season may not be over yet.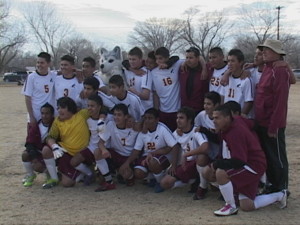 The Huskies lost to unbeaten Cate High School of Carpinteria 3-1Saturday in the Division 7 title match of CIF-Southern Section FordChampionships Presented by Farmers. The game was played at Warren HighSchool in Downey.
Mammoth, however, may still be playing this season. Huskie Coach Hector Villapondo was told by a CIF official that the Huskies have a 90% chance of being selected to play in the Southern California Regional of the State Tournament. The Huskies would be in the lowest division, Division 3. The state selections will be made Sunday.
The title match was an exciting battle between the top two teams in the CIF-SSDivision 7. Cate, the top seed, came into the game sporting a sparkling20-0 record, with three shutouts in four victories in the postseason. Catewas ranked 24th nationally by ESPN in Division 7.
The Huskies, champions of the Desert Mountain League, earned the berthin the title game with a 21-2-3 record, and had to win two road games aweek ago among their four wins to reach the title game, traveling about 30hours to do so.
The soccer team was trying to become the second Mammoth High sports team -excluding ski teams – to win a CIF-SS title. The Huskies won the1990 Small Schools volleyball championship. Kristin Keller was the Playerof the Year; the team was coached by Rick Naranjo.
Dozens of Huskie fans made the trip to Downey to witness the soccer team'shistoric game. Sierra Wave TV33 will have coverage Monday, along withstories on Sierra Wave FM (92.5 and 96.5) and sierrawave.net