– Press release
The Mammoth High School girls volleyball team pulled out a hard-fought, heart-pounding win Saturday night against the Santa Clarita Christian Cardinals at jammed-packed Mammoth High School.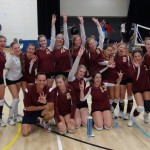 The Huskies will move on to the semifinals of CIF-Southern Section Division 5AA against Pomona Catholic on Tuesday in Pomona.
Mammoth started the quarterfinal playing its best volleyball of the season, winning the first two sets 25-23 and 25-20. But, the Cardinals were hardly ready to pack it in. Despite the frenzied home crowd and being down 0-2, they stormed back taking sets 3 and 4 25-21 and 25-20.
The 5th set went back and forth until the Cardinals pulled ahead to 13-9, only 2 points from winning the match.
In a timeout huddle, the Husky seniors talked about this being their last home game and were determined to fight until the end. They clawed their way back behind the serving of Amanda Kirkeby and Hailey Sanders, playing mistake-free ball, to 13-13. The Cardinals twice had match point at 14-13 and 15-14 but Huskies took advantage of a few Cardinal mistakes and pulled out the win 17-15.
Stellar performances were turned in by Middle Blocker/Hitters Callie Mowat and Kelly Berger who combined for 23 kills and over 40 blocks, Libero Kira Shultz with 23 digs on defense and excellent passing all match.
Outside Hitter Amanda Kirkeby with 8 kills, 2 aces, and superb all around play, and Setter Cassidy Morris, who ran every play of the match without a break dishing out 34 assists.
Said Mammoth Head Coach John Morris, "there are really no words to describe how I feel about this team. They continue to amaze me".