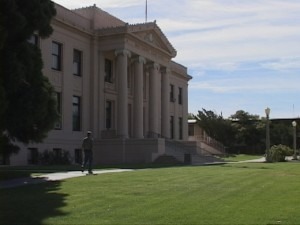 Last week a jury was selected and testimony underway in the case of a Bishop man charged with felony arson of an inhabited structure.  Yesterday,  according to sources,the jury revealed to the court that its members could not reach a verdict.  It was a hung jury.
The man accused of the arson crime is Stephen D. Krufal of Bishop.  It was alleged that Krufal had started a fire at his neighbor's home in the Highlands Mobile Home Park in Bishop.  This was on September 6th of 2010.  At the time the Bishop Volunteer Fire Department and Inyo County Sheriff's Office were dispatched to Highlands for a possible arson.  Mr. Krufal was arrested at the scene.
The trial included a number of expert witnesses testifying to arson and the validity of eye witnesses.  Mr. Krufal had been hosting a Labor Day BBQ back in 2010, but a neighbor claimed he saw Krufal start a fire at his home next door.  The jurors apparently found reasonable doubt and did not convict.
It is unknown at this time whether the District Attorney will re-try this case.