Human remains found in a remote southern part of Death Valley have spurred a search effort that appears tied to the disappearance of four German tourists in 1996.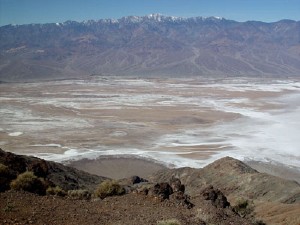 The Inyo Sheriffs Department, Inyo Search and Rescue, the Inyo County Coroner and National Park Service joined to investigate the discovery of bones in the southeast area of Goler Wash.
Reports said that two Riverside County Search and Rescue team members decided to search the remote area, in an unofficial capacity, for signs of the missing tourists. They did find human remains.
According to Inyo Undersheriff Jim Jones, Located close in proximity to the area where the skeletal remains were discovered was personal identification for one of the missing German tourists.
In July of 1996, 34-year-old Egbert Rimkus, his 10-year-old son, his girl friend Cornelia Myer and her 4-year-old son Max traveled to Death Valley. Relatives expected them to return home at the end of July.
Their rental car was found stuck on a closed road in Anvil Spring Canyon in the Panamint Mountains. A large search at the time turned up few clues. The mystery of the disappearance of four people prompted search volunteers from various teams, along with other individuals, to keep up the search over the years.