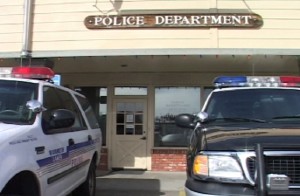 Mammoth Police Sergeant Eric Hugelman has filed a claim against the Town of Mammoth Lakes for more back pay and benefits than he has already received.
Mammoth Police Chief Dan Watson confirmed that Hugelman has filed a claim.  Chief Watson said, "Its a question of what he is entitled to in back pay."  Watson said Hugelman was already paid for the time he was off the job with an appeal pending on his termination.  "It's just a question of the amount," said the Chief.  "He and his attorney believe he was not given the correct amount."
Town Attorney Andy Morris said, "The Town paid him all the money we think he's entitled to." When asked how much more Hugelman wants, Morris said only that the claim mentions at least $25,000.  Morris said the Town will evaluate the claim and either deny it or accept it.
Former Chief Randy Schienle had fired Hugelman following an internal affairs investigation into the bar fight at Rusty's Saloon in Bishop in 2009.  Hugelman was initially charged, but later counts were dismissed.  An administrative hearing officer found that Hugelman should be reinstated at the MLPD.
If Hugelman does receive more money, it will come out of the Mammoth Lakes Police budget which is already suffering.  In fact, as of July 1st, a patrolman will leave the department under a lay-off.  He is a patrol officer.  Chief Watson said he anticipates a decision on possibly cutting back on the traffic officer position and backfilling the patrol position.
While he prefers to keep his officers, Chief Watson said, "What the Town Council did last week is far better than the proposed cut of three positions the week before."