What benefits will developers give to Mammoth? Through district planning, citizens and officials compiled lists of specific benefits facilities and more. Sounds simple, but the process to get there got complicated.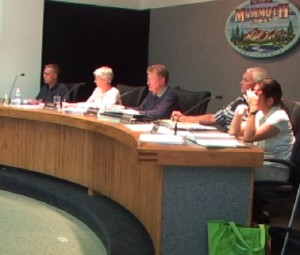 Councilwoman Jo Bacon did not think that the Community Benefits and Incentive Zoning Policy that came before the Mammoth Lakes Town Council on August 5 was adequate. She hoped Council would defer adoption of the policy recommendations until a meeting in September, after the policy was worked on and defined further.
We have these lists [of benefits] that have no value, Bacon stated. What do they mean?
She was also concerned that discussion of a projects community benefits would not automatically go before the Town Council. The discussion would go to the Planning Commission and only involve Council if an appeal was made.
Mayor Neil McCarroll felt, however, that Council should not define community benefits too narrowly and should leave discretion up to the commissions appointed to flesh out these types of things.
We will be micromanaging the commissions if we get too specific, McCarroll stated.
Legal counsel for the newly renamed Old Mammoth Place (formerly the Clearwater) Mark Carney agreed with McCarroll.
You have all the information you need in the policy, Carney stated. Now the criteria has to be applied to specific projects; you cant do that in the abstract. The Town will still have the opportunity to say yay or nay to proposed benefits when applications come forward.
Carney also reminded Council of their commitment to have this policy approved two months ago. His client had agreed to hold off on submitting a project application until the policy was approved, but Council had committed to having the policy in place by June 2009. His client was now planning to come forward with a use permit application at the end of August.
If we cant make a decision on this tonight then we are incompetent, stated Mayor Pro Tem John Eastman.
Councilman Skip Harvey, however, agreed with Bacon. Failure to give solid direction to our commissions and saying it would be micromanaging is a cop out.
Council voted 3-2 to adopt the policy recommendations. Harvey and Bacon voted no.