One ordinary afternoon in Bishop, an elderly woman had called Dial-A-Ride for a way home after a visit to the hairdresser. After a half hour then nearly an hour's wait in the heat, she made a distressed call to Eastern Sierra Transit. We called the Transit Agency to learn if this delay were typical of service for the elderly and disabled.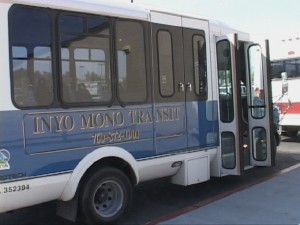 John Helm, Director of Eastern Sierra Transit, was aware of the woman's problem. He maintained that this kind of delay is "not typical." Helm said the average wait time for Dial-A-Ride is in the 17 minute range. "Some waits are longer, some shorter." Helm said the staff keeps a spread sheet on each call to track quality of service.
Helm said delays shouldn't happen and that things "broke down" that day, in which only two buses provided service. Helm said normally there are 3 or 4 most of the day. He assured that there has been no reduction in service and that ESTA is "trying to figure out ways to minimize the waits."
Demand for Dial-A-Ride varies and Helm said that makes streamlining service difficult.
Meanwhile, with lines of credit from all local governments confirmed, ESTA service carries on with no new cuts following the earlier changes.