Mammoth Town Councilman Rick Wood called the $30 million court judgment the Town now faces "the single biggest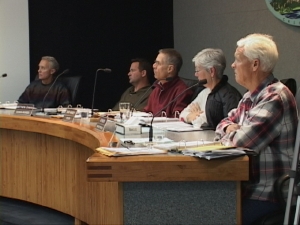 financial challenge this Town has ever faced. It dwarfs all others," he said.
Since the California Supreme Court refused to hear Mammoth's appeal of the Hot Creek judgment, officials now have to face the $30 million debt and what to do about it.
Town Public Information Officer Stuart Brown issued a news release on the Supreme Court refusal to review Mammoth's appeal. It says, "The Town is greatly disappointed by the decision and believes that the Court did not fully understand the Town's position and interpretation of the underlying legal principles." In addition to second guessing the Supreme Court, the release also said that the Town plans to move forward to address the "consequencees of this decision and evaluate what we are able to afford to pay on the judgment granted by the lower court."
Councilman Wood expressed his disappointment and the need to move on, but Wood also pointed to what he considered a mistake. Wood did not sit on the Council at the time of the Hot Creek development agreement signing, but he said offiials did hire staff and legal experts to protect them and to include things in the agreement to not get in a bind. Wood said that the language in the agreement did not protect the Town if the FAA did not approve the Hot Creek development plan at the airport.
Wood said more importantly it's time to engage expertise to get through the problem. He said the Council will meet with their experts in a closed session Friday to discuss the next steps. Wood said the public should know the Council is not "sitting on our hands." He said they would consult a bankruptcy attorney and a financial analyst to help in understanding the options – both legal and financial.
Wood said this is the number one priority and that he believes the Town has "the right staff, experts and Town Council to handle it."
The closed session meeting was scheduled for 4pm Friday int he Town Office main conference room. The Council planned to talk about selection of a permanent town manager and about the Hot Creek court judgment.