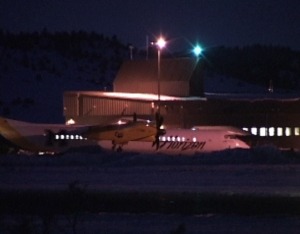 Another detail from the Airport lawsuit situation – the development agreement signed back in 1997 is still in effect.  According to Mammoth Financial Consultant Marianna Marysheva-Martinez, the development agreement itself expires in 2017.  She said only part of the development agreement was transferred to Mammoth Lakes Land Acquisition. Terry Ballas holds the rest and is now in discussions with the Town.
It was Ballas who signed the agreement with the Town in 1997. He transferred the part of the agreement to MLLA that includes development rights for condos and hotels on a 25 acre site at the airport.  Martinez said once MLLA and the Town reach a settlement agreement over the $42 million lawsuit debt, the development rights will "go away."  Theoretically, the site would  then be available for someone else to develop.
Martinez said still in place are all other components such as a potential retail center, roads and a new terminal.  She said Terry Ballas approached the Town on the rest of the development since time is running out.  Martinez said "discussions on the remainder of the development agreement" are now going on between Ballas and the Town.  The benefit of Ballas developing at the airport, said Martinez, would be tax revenue – sales tax and property tax.
At the direction of the Town Council, Martinez sent a counter offer for settlement of the $42 million debt to MLLA last week.  As of Tuesday, MLLA had not responded.  If they do by Wednesday night, the Town Council would plan to talk about it in closed session.  Martinez said if MLLA does not respond by Wednesday, a special closed session may have to be called later in December.