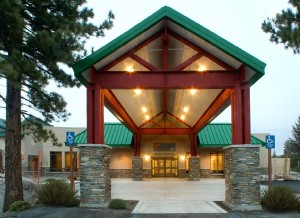 The vacancy on the Mammoth Hospital Board will continue until December 15th.  A cancelled meeting this month has extended the time to apply for appointment.
Hospital Board Chairman Jack Copeland had decided to resign to avoid what he described as a conflict of interest.  Copeland is Vice President in charge of Human Resources at Mammoth Mountain, which currently works with the hospital on a marketing plan.  Officials said the plan is designed to raise awareness of the hospital on the Mountain.
Originally, the Board planned to appoint a new member at their November 17th meeting which has been cancelled.  The Hospital District will continue to receive applications for possible appointment through December 7th.  The Board will interview applicants at their meeting on December 15th and make the appointment that day.
So far, these people have applied for appointment:  Edyth Irvine, Dr. Doug Will, Dr. Richard Hamilton, and Ed Forstenzer.  Those who wish to apply should contact the District Secretary at 760-924-4114.  Completed applications must be returned to the District Office by 5 pm on Wednesday, December 7th.