By Deb Murphy
The Horseshoe Fire started Tuesday afternoon west of Lone Pine. By Sunday, the fire was 94-percent contained, leaving 361 charred acres.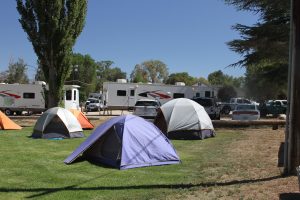 According to an on-site Forest Service public information officer for the incident Manual Madrigal, the Forest Service would probably pull out this evening, leaving the mop up to Inyo National Forest crews.
But, 45 miles north of Lone Pine, at Big Pine's Mendenhall Park and adjoining dirt lot, a small village started to spring up the day after the fire. Forest Service vehicles were joined by trailers, Porta-Potties and support crews in semis. Little tents sprang up like wild mushrooms, first in the grassy park perimeters, then in the Little League ball field.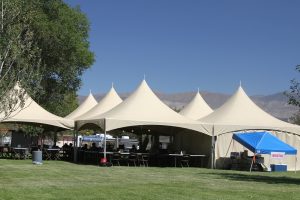 Bigger tents, command centers, catering trucks, water tenders to keep the dust down filled the venue—the community's population grew by 20-percent in a matter of hours.
In total, the Mendenhall Park camp was home to 350 people for the past five days.
According to Madrigal, the Type 2 Team, 56 firefighters, was assigned to the Rock Creek fire that started August 8. When the fire hit natural barriers and Swall Meadows was out of danger, the crew was brought in to deal with the Horseshoe incident.
The crew includes firefighters from Ventura and Santa Barbara counties as well as federal and local firefighters. "We're on two-week rotation," he explained. It's been a busy two weeks.
In what seems to be a logistic miracle, the Forest Service just puts in a phone call to its contractors and a fully-functional village appears.
Why, aside from the sheer beauty of Mendenhall Park, did the camp set up 45-miles north of the fire? A similar location in Lone Pine wasn't available, Madrigal said.
In addition to the Big Pine camp, a strike camp was set up in Horseshoe Meadows with supplies dropped in by airplanes, a total of 10 drops in all, originating at Bishop Airport.