By Deb Murphy
In what seemed a cruelly random act, nine horses were injured, a truck burned and tack sheds were rifled through early Monday morning at the Big Pine Saddle Club.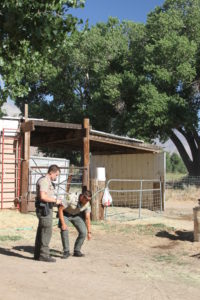 A club member has put up a $1,000 reward for anyone with information leading to the arrest of the criminal.
The club, located across from Mendenhall Park, stables 36 horses owned by area residents.
The Big Pine Volunteer Fire Department and law enforcement had been called to the scene around 1:30 a.m., according to the Sheriff's Department Facebook page. A pick-up, parked in an empty corral area, was on fire. The truck was a total loss but the fire did not spread to structures or vegetation.
Footprints found at the scene of the fire were traced to the men's restroom at the park. The Department stated evidence indicated the perpetrator tried to set the restroom structure on fire.
As club members came after dawn to feed, the injuries to horses became apparent. Three were trailered to the veterinarian, the rest were treated on the scene. One of the more seriously injured animals received 40 stitches to close an extensive wound. The gelding was also stabbed. By Monday evening he was back at the club.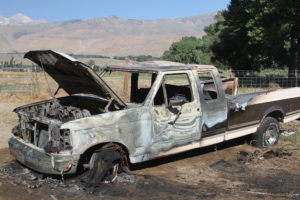 Injuries ranged from shallow slashes across the neck to what appeared to be a hammer blow to the head. The more serious injuries look like an attempt to slit the animals' throats.
Sheriff's deputies, an investigator and crime scene technician as well as personnel from the County Animal Shelter scoured the area for evidence. Some tack sheds were broken into with feed and shaving bags ripped open and the shed contents rifled through. A child's saddle was stolen.
There didn't seem to be any pattern to the act. Five of the injured horses were in adjacent corrals on one side of the club; a miniature horse may have been hit in the head next to the burnt truck a farther down the line. Three of the injured animals were on the far side of the stables near the entrance. Most of the broken-into tack sheds were not adjacent to the injured horses.
Both Deputy Mark Gutierrez and Animal Control Supervisor Julie Richardson said they had never seen anything like it.
Within the last year, a horse suffered injuries similar to Monday's attacks. At that time, one of the members suggested it was a knife wound, but nobody wanted to believe it.
According to saddle club president Shelly Snoderly, the club will be setting up a GoFundMe page to help horse owners with veterinary expenses; the Sheriff's Department has committed to adding patrols to the area.
Anyone with any information is urged to call the Sheriff's Department at 760-878-0383.