UC Davis Veterinary Medicine Department now says that they have obtained more information and have concluded that the EHV-l horse virus outbreak is centered only around horses that were present at a Utah horse event in late April or an event in Bakersfield May 13th. The veterinary school recommends biosecurity measures for horse shows or events but not cancellation.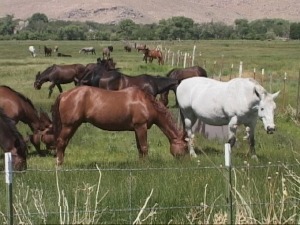 In a release yesterday, UC Davis advised that events like Mule Days confirm that animals arriving have not attended the Utah or Bakersfield events or been in contact with horses from those events. They advise establishment of a "No Fever" policy for horses attending. All horses should have temperatures taken twice daily with posted results. Any horse with a fever of 102 degrees or greater should be removed from the event.
The California Department of Food and Agriculture has also recommended biosecurity guidelines that match UC Davis. The Mule Days event organizers have set up numerous security measures. Dan Dean, Show Chairman, said that Mule Days has set up a quarantine area and has a veterinarian on the grounds to examine animals. Sanitation stations have been set up to keep clean hands and avoid spreading of any disease. The general public is banned from contact with the animals.
Dean said the shows are going well, and participation is good. He said some people who had cancelled have not shown up and eight or so people who came from Red Bluff and Sacramento saw how Mule Days had organized the grounds, felt confident, and went back home to bring their animals to Bishop. "We're okay," said Dean. "With help from the local packers, things look better every day."