Press release from Kathy Copeland
WHAT'S WRONG WITH THIS PICTURE??!! Absolutely nothing!! But she only has one leg!? YUP! And she can and does…do it all.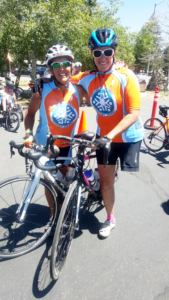 This shot is of Jill Hodges, one of our SUPER volunteer ski instructors and me…from last year's SIERRA CYCLE CHALLENGE. Hoot! Inspirational and motivating to be sure!
I need your help! The funds that I raise for The Sierra Cycle Challenge go directly toward supporting students with individualized instruction and adaptive equipment, so they can enjoy the same sports that you do. Your donations will allow an autistic student to take her first runs at Mammoth Mountain or a Wounded Warrior to remember that life is still worth living.
My Goal: Raise $10,000… Please help me reach my goal with a tax-deductible donation to Disabled Sports Eastern Sierra. I'll be climbing my way through the Eastern Sierra for three days and thinking gratefully of all my supporters along the way!
DSES accepts checks through the mail (address below), credit cards online or over the phone (760.934.0791). Please include my name with your donation.
Thanks so much! SMOOCHES!
Kathy