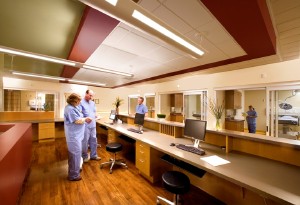 An organization called Press Ganey that ranks hospital service has named Mammoth Hospital a 2010 Summit Award winner. Officials pointed to the emergency department as the winning service.
According to Lori Ciccarelli, Community Relations Director for the hospital, Press Ganey partners with more than 10,000 health care facilities, including 50% of U.S. hospitals, to measure and improve the quality of their care. Press Ganey's databases are considered the largest in the industry, according to Ciccarelli, which allows facilities nationwide to measure their results against other similar organizations.
The Summit Award, which was received by Lori Baitx of
Mammoth Hospital, recognizes top performing facilities that sustain the highest level of customer satisfaction for three or more consecutive years. Mammoth Hospital is one of 80 client facilities to receive this honor in 2010.
Mammoth Hospital gained the award by sustaining an overall rank above the 95th percentile in the emergency department database for at least the past three years. Patient surveys lead to the rankings. Ms. Ciccarelli said that Press Ganey mails out surveys to patients, calculates data.