by Carma Roper, Inyo County Sheriff Public Information Officer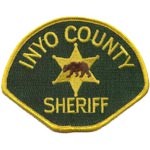 At approximately 9:00PM Tuesday night Inyo County Sheriff's Office received a call of a non-responsive (possibly deceased) male on Winuba Lane in Bishop.
Sheriff's deputies and Symons ambulance were dispatched to the scene; the victim was transported to Northern Inyo Hospital where he was pronounced deceased.  The victim has been identified as 45 year-old Daniel Barlow of Bishop, CA.
An autopsy will be scheduled to determine the cause of death.  Shortly after 1:00AM Wednesday morning, Sheriff's deputies contacted Harlan Dewey, a 40 year-old Bishop resident; Dewey was placed under arrest for suspicion of homicide.
Dewey is being held at the Inyo County Jail; bail has been set at $1,000,000.
The Sheriff's Department is asking that if anyone has information pertaining to this investigation to please call 760-878-0383.