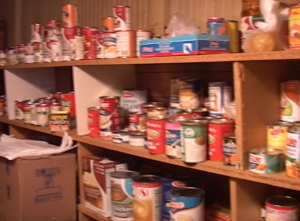 As the weather turns frigid, the homeless of the Eastern Sierra grow more visible. Many of them have approached local agencies for help. The holiday season also shines a light on needs for those without homes and those who are working but can't make ends meet.
Salvation Army Lieutenant Cathie McCulley has her hands full with Christmas food baskets and daily needs of the hungry and the homeless. She said that "a lot more families and homeless come in for help. The cold is a problem." The Salvation Army has limited funds for motel rooms. Local donations for that are welcome.
McCulley also urges anyone who wants a holiday food basket, toys and coats for kids should go to the Salvation Army office at 621 W. Line St. to sign up. Bring ID for all family members and proof of an address. The deadline is December 15th. McCulley said they also need food donations – canned vegetables, soups, peanut butter and jelly. She has ordered already cooked meals that can be re-heated for those who stop in for help. The homeless know to go to Salvation Army.
The food pantry is open at the West Line St. facility in Bishop and one is open in Mammoth Lakes at 220 Sierra Manor Rd. next to Higerd Plumbing.  The Mammoth Salvation Army needs volunteers for the donation kettle at Vons.
Homeless and hungry also know they can go to the United Methodist Church of Bishop on Fowler St. The Soup Kitchen there serves between 80 and 100 people Mondays, Wednesdays, and Fridays at noon. Pastor Kathleen Puntar says there is a greater need this year. She said more than a dozen high school students now come for lunch. Said the Pastor, "The need is up, our numbers are up and our costs are also up." The Church holds a shower ministry from 9:30am to 11:30am on Soup Kitchen days. More are coming for that, which means more people without homes.
Pastor Puntar said the homeless around Bishop are camping out in the cold. She said the Church can provide motel rooms on an emergency basis but don't have the funds to fill all requests. She said they mostly reserve the housing option for families with children. And, yes, there are entire families without homes.
Donations for the Soup Kitchen and motel rooms for homeless can be sent to the United Methodist Social Services at 205 N. Fowler St. in Bishop.
At Inyo-Mono Advocates for Community Action, Ophelia Martinez heads up an energy assistance program. She said a lot of people need help paying their heating bills this time of year. IMACA still has funding. Call them for an appointment at 873-8557. IMACA receives $300,000 in annual funding and helps between 600 and 800 people with energy bills every year.
Executive Director of IMACA, Jill Paydon said IMACA does have some funding for emergency housing at motels. There is also funding for those who are in danger of eviction or who have found a place to live and need help. Paydon said the extreme cold has created need. She said IMACA also has some tents and outdoor supplies.
Director Paydon said that the IMACA Food Pantry now sees more people than in the past. She said it is mostly the working poor with families and low income senior citizens. Paydon said food donations are always welcome at the Bishop office on Main St and the Mammoth IMACA office at 625 Old Mammoth Rd. Plus, the food pantry is open Wednesdays in Lone Pine in the Chamber of Commerce courtyard.