Within a few months time the City of Bishop is expected to start a homebuyers assistance program.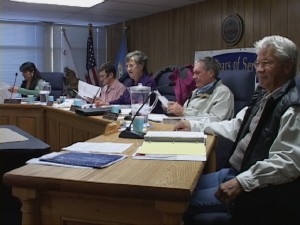 The City had applied for and now has received $400,000 in grants to start a program to loan potential homebuyers who live and or work in the City of Bishop up to $200,000 to purchase a home. Mammoth Lakes Housing Inc. will administer the loans
If a house cost $300,000, the homebuyer would get a regular 30 year fixed rate loan from a bank for what they could afford and Mammoth Housing would then lend the rest of the money to buy the house, but without interest. When the homebuyer pays off the regular bank loan in 30 years, then they start to pay off the Mammoth Lakes Housing Loan.
The loans would be available to people who live or work in the greater Bishop area, but the house would have to be in the city limits. The income limit is 80% of the area median income, or roughly $47,000 for a family of four.
With $400,000 in grant money at this time, there has been concern that there could only be two $200,000 loans. Pam Hennarty, Director of Mammoth Lakes Housing says that the loan amounts are based on what people need. If you need $50,000, you get $50,000, she explained. Hennarty added that of the fifty or so loans that Mammoth Lakes Housing has administered in the past, the average amount loaned was about $75,000.
This still doesnt leave a lot of money for loans under the grant, so the City Council has proposed a lottery system that would draw from eligible applicants. The details of the plan are set to be finalized at a February council meeting, with the drawing for loans likely occurring in early March.