Following is a press release from Home Street Middle School:
Home Street Middle School is participating in a fundraising activity in which the community can be "COLTED".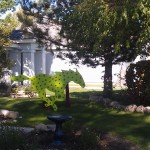 What this means is if you wake up to find an obnoxiously painted wooden Colt in your yard – "You've been Colted".  You may call Home Street Middle School at 760-872-1381 to have the Colt removed or better yet you may make a $25 donation to Home Street Middle School and we will place it in the yard of your choice.
We are selling Colt insurance at a fee of $15 to protect your yard and neighborhood reputation … trust us, this Colt is rather hideous. Funds raised will help pay for Student Handbooks, Ski Program Scholarships and various other student programs.
Any questions please call 872-1381 or to purchase insurance stop by the front office.
Thank you for supporting Home Street Middle School in this humorous fundraiser.