Mammoth residents stopped talking about the town debt for awhile this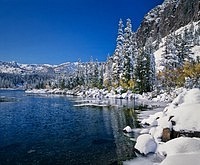 week when scores of motorhomes and would-be Fourth of July vacationers showed up in the Mammoth Lakes Basin to inhabit the campsites they reserved and paid for only to find that all but ten sites were still snowed in.  The Forest Service  said over 140 sites are not open that normally would be on the Fourth.
Reports said that Mammoth Mountain offered to provide space at Canyon Lodge and Chair 15 for the stranded visitors.  Nancy Upham, Public Information Officer for the USFS, said that the Forest Service did  place 90% of the vacationers elsewhere like June Lake, Convict Lake and Shady Rest.  She said 10% were "pretty unhappy with the whole situation" and left.
As for the lack of communication to campers, Upham said, "Protocols of what should have happened broke down."  Upham explained that a concessionaire, CLM, operates the campgrounds and another separate company, Reserve America, handles reservations.  A breakdown occurred somewhere, but right now Upham said the Forest Service will not spend time to investigate since it has its hands full trying to open campgrounds for the holiday.
Upham said that this problem is a national issue.  "On a nationwide basis," she said, "there are more campgrounds closed due to floods, snow and fire than ever before."  She called it an "unprecedented level of problems across the nation."
We do know a 2pm meeting was called on Wednesday in Mammoth Lakes that included Town Council members, the Forest Service, campground concessionaires and others. So, a number of resources have focused on the problem.
Upham said that last weekend only two campsites were open in the Lakes Basin.  This weekend, she said, it is anticipated that almost all but Coldwater and Lake George will be open with some exceptions at Lake Mary and Twin Lakes.  In addition to clearing snow, crews have to deal with hazard trees and other issues.
Upham added that the Reds Meadow area sustained broken sewer lines that have caused problems.   Campgrounds there were not open.  Upham said the Forest Service is trying to open three campgrounds in Reds Meadow.
When asked about the campground issue, Councilman Skip Harvey said he understands this problem started last Friday.  Harvey said, "This is a classic example of what happens when you contract with people who are not familiar with the local environment."