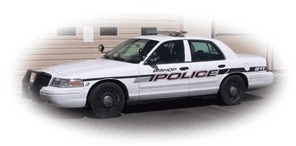 The Bishop Police Department would like to take this opportunity to provide our Community with some important safety tips to help everyone have a happy and safe Holiday Season.
Tip#1:  Report Drunk Drivers and avoid alcohol consumption if driving.  BPD and other Public Safety Agencies will be on the lookout for those driving under the influence and we have a no tolerance policy for Drunk Drivers.
Tip#2:  Secure your valuables and don't leave personal items unattended.  Thefts of items from vehicles and thefts of purses from shopping carts increase dramatically this time of year.  Take your packages inside or lock them in the trunk and don't leave your purse or personal items unattended while shopping.
Tip#3:  Protect yourself against Identity Theft and Credit Card Fraud.  If shopping on-line use only secure sites.  Beware of unsolicited e-mails asking for your personal information such as social security or account numbers.  Pay close attention to your statements and report any suspicious account activity immediately to the bank and local Law Enforcement.  If you have a card that is lost or stolen, report it immediately to the issuing institution.  Local Merchants are also reminded to always ask for identification when accepting credit or debit cards for purchases.  Credit Card Fraud also increases dramatically this time of year.
Tip#4:  Be a good neighbor and a good citizen.  Promptly report any suspicious activity to Law Enforcement.  The Police can't do it alone.  We need the help of our citizens so please don't hesitate to call the Police if you observe criminal or suspicious activity.
The men and women of the Bishop Police Department would like to wish everyone a Merry Christmas and a Happy New Year.