On Thanksgiving Day, officers arrested a Bishop resident after a hit an run accident in town.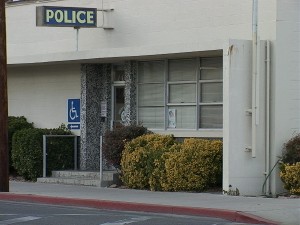 Bishop Police report that a Fish and Game truck, parked on Willow Street, was struck by another vehicle at about 4:30 pm on the 26th. Police say witnesses were able to describe the suspect vehicle as a red Chevy pick-up. Bishop Police broadcast the vehicle description, and CHP officers spotted a vehicle matching the description on Warm Springs Road.
Officers report that 30-year-old Shane Thomas was arrested for alleged driving under the influence along with hit and run.
In another incident over the holiday, at about 3:00 am on Saturday the 28th, Bishop Police took a report of a stolen vehicle that was later recovered. Lt. Chris Carter reports that a Black Audi Q7 was reported stolen from Whitney Alley behind Rustys Bar. Inside the Audi was a black Labrador retriever.
According to the Lt. the victim reported that he had been in the bar playing pool, and discovered his keys were missing. After leaving the bar to check on the dog, the victim told officers that he went home to retrieve a spare set of keys. Police say that the victim returned to the vehicle to find that the car was missing.
The Audi and the retriever were found at 8:30 am on the 100 block of Willow Street.