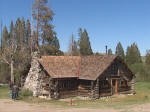 Dear Editor,
The Southern Mono Historical Society would like to send out a huge THANK YOU to everyone who showed up to volunteer in setting up, decorating, serving food, cleaning up and tearing down for our Old Timers' Day & BBQ on 8/23 which was also our annual general membership meeting.  This year our event was in conjunction with the Lee Vining High School Reunion (from the beginning to '74) at the Hayden Cabin/Mammoth Museum.  We couldn't have put on such a successful event without all of you!
A heartfelt thanks to the following:  LDS Elders Nelson and Cheney, Rex King, Russ Ferguson, Debra Ritchie, Will Fix, the Sauser family: Tina, Judy, Charlie and Mark, Sharon & Bob Cox catering, Steve Weatherwax at the bar, Rafters for ice, Jenny Bouwman of Mammoth Lakes Nursery for the centerpiece flowers and members of our Board of Directors; Bill & Chris Sauser, Robert Joki, Jon Goodwin, Dinah Frincke and Barbara Richter.
Many thanks also to the generous businesses in our community of their donations for our raffle prize drawing: Footloose Sports, Booky Joint, Napa, Graphic Conclusions, Carmichael Business Technology, Oaktree, Slocum's, Mammoth Liquor, Giovanni's, Tailwaggers, Another T-Shirt Shop, Rocky Mountain Chocolate Factory, Minaret Cinemas, The Gallery at Twin Lakes, Roberto's Café and swag from the Hayden Cabin/Mammoth Museum.
We would like to congratulate our newly elected Board President Robert Joki of The Gallery at Twin Lakes/Stephen Willard Studio.  He is going to make a fine and invaluable addition to our Board!
The Hayden Cabin/Mammoth Museum at 5489 Sherwin Creek Road remains open daily from 10:00 a.m. to 6:00 p.m. until September 28th then will be closed for the winter.  Admission is free, however we gratefully accept donations and memberships.  The SMHS is a 501(c)3 not-for-profit organization.
Thank you again!
Directors of the Southern Mono Historical Society