Years ago, Inyo rancher Sandy Kemp acquired some 760 acres with water rights near Lone Pine and created the Lubken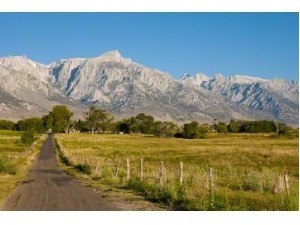 Ranch. Today, the children of Kemp own the ranch which has been for sale over the past few years. The asking price started at $20 million. In today's market, the price has dropped to $6.5 million and the Los Angeles Times sent a reporter to delve into the beautiful acres.
Scott Kemp owns the ranch along with his two sisters. He doesn't want to sell the ranch. In fact, he would prefer a conservation easement that would allow the ranch operation to continue.
Beverly Hills realtor Crosby Doe has the listing. He said a few have come to see it. Doe confirmed that a Google Think Tank called about the land. "We've had setbacks because of the economy," he said. Mr. Doe said he likes the Eastern Sierra and is sensitive to things done here. He said the area needs more of the right kind of development. Doe said there's plenty of room for preservation in the Lubken land. "This could benefit the whole valley," he said.
Scott Kemp said he and his sisters are in the process of re-zoning twelve lots into 2 1/2 acre lots which, added to the current three, will mean 15 2 1/2 acre lots which could be sold or developed separately. These lots are located across from a current sub-division, so Kemp said he believes the re-zoning will not be environmentally contentious. Kemp said the rest of the ranch would remain 40 acre Open Space, and that's the part he would like to see in a conservation easement.
Kemp owns and operates a much larger cattle operation on DWP land. He said Lubken represents 20% of the cattle they raise.