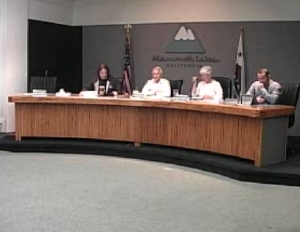 When the Mammoth Town Council met last week, it was once more with feeling. One more time, a Council had to figure out how to hire a Town Manager. In fact, the tenth time in the Town's history. None of the four Council members present seemed exactly sure how to do it. So, they will take a month and then interview potential consultants.
Since Interim Manager Dan Holler has made it clear that he will apply for the permanent job, he's out of the selection process. Town Attorney Andy Morris took charge. He recommended a recruiter and figuring out what the Council and the public want in a manager.
Matthew Lehman said he would rather not spend money on a consultant, which half the time, he said, you might get value. Michael Raimondo agreed and said, "Spending $26,000 doesn't sit well with me." Jo Bacon disagreed. She said, "One thing we don't do well is ask questions. Our track record is not good with Town Managers." Bacon said the Council needs someone to help them.
Mayor Rick Wood said he was embarrassed to say that he was involved with selection of six of Mammoth's Town Managers. Then, he admitted, "I don't know which way to go." Wood described the processes through the years as all over the lot. Sometimes consultants helped. Sometimes they didn't. Look at Dave Wilbrecht, Wood said. He was local, respected, had a good track record and a house but ultimately did not want to be here, said Wood.
Attorney Morris then said he thought it would be better for the Town Council to interview consultants and pick one for themselves.
Mayor Wood said he has a "definite sense that some calm has come over us." He said he didn't feel an urgent need to hire someone in the next 30 days. Wood said that maybe they would interview consultants in the next month and not push things. Said Wood, "My sense is that we are operating in a smoother fashion than we have in the last couple of years."
Another twist. Jo Bacon pointed out that three Council seats are up for election in June. Wood said that could impact the process. With things kind of open-ended, Morris did say he would come back with three or so consultants for the Council to consider at their first meeting in December.