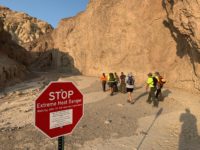 NPS photo
NPS Search and Rescue team leaving Golden Canyon trailhead.
Office of the Sheriff
Inyo County, CA
Death Valley National Park National Park Service
U.S. Department of the Interior
Inyo County Sheriff and Death Valley National Park
Joint News Release
Release Date: August 20, 2021
Contact: Carma Roper, Inyo County Sheriff's Office, [email protected]
Abby Wines, Death Valley National Park, [email protected]
Hiker Fatality in Death Valley
DEATH VALLEY, CA – On Wednesday, August 18, 2021, Mr. Lawrence Stanback, 60, of San Francisco, California, died while hiking near Red Cathedral along the Golden Canyon Trail in Death Valley National Park.
National park staff received a report of suspected heat stroke and CPR in progress at 1:40 p.m. An inter-agency search and rescue was initiated, with park rangers responding on foot locating Mr. Stanback and confirming that he was deceased.
California Highway Patrol Inland Division Air Operations helicopter H-80 responded to assist with the recovery, but winds were too strong to safely land. In the cooler evening hours, national park staff were able to safely complete the recovery. The Inyo County Sheriff's Office and Inyo County Coroner are investigating the cause of death.
Park rangers urge summer travelers to visit Death Valley safely by hiking only before 10 am or at high elevations, drinking plenty of water, eating snacks, and by staying close to an air-conditioned building or vehicle to cool down in.
# # #