Highway work continues throughout the Eastern Sierra. The project on Sherwin Grade is still on schedule for completion by early October.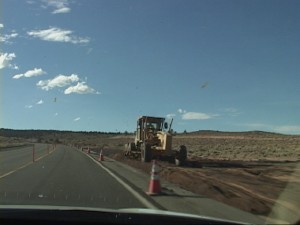 Crews expected to do paving this week if the asphalt product tested okay in the Caltrans lab. This paving would include shoulder closures.
The work on the grade includes widened shoulders and guard rails.
The paving was expected to start at the bottom of the project and work up in what is called Stage 1. Then, crews will pave all locations in Stage 2.
In between, the contractor planned to work on erosion control and guard rails. Lane closures were not expected, but Caltrans asks that you go slowly through the construction zone.
In Independence, the northbound lanes of Highway 395 were supposed to be complete this week, switching traffic to the other two lanes. That project, including a final layer of pavement on both sets of two lanes, was expected to wrap up this fall.
And, as Tom reported yesterday, a project in Lone Pine next in line. A public meeting to explain the paving project is set for August 18th, next Tuesday, at the Lone Pine Chamber of Commerce courtyard at 7pm.