For almost two and a half years, residents of the Highlands Mobile Home Park in Bishop have worked to achieve an officially enforceable speed limit. Today they succeeded.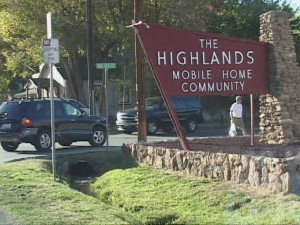 Dan Sanchez, who is with park management, said that he personally has worked as the point man for the past two years and four months to get this issue through. Sanchez said that in recent years, traffic through the park has grown faster and more dangerous. Even though the speed limit has always been 15 miles per hour, the limit now carries the force of law.
The Inyo Supervisors considered the park plea for an enforceable speed limit. Residents had the support of Inyo Public Works and the Highway Patrol. The Board unanimously passed the resolution authorizing the enforceable speed limit. Now the CHP will patrol the park as they would any other highway or street.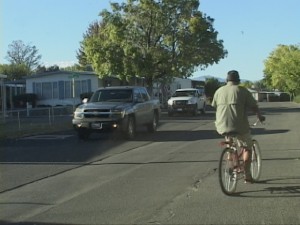 Mr. Sanchez pointed out that the design of the park does not accommodate sidewalks, so pedestrians must share the road with vehicles. He said of the more than 500 residents in the park, more than 300 are senior citizens. Several accidents have been recorded within the park.
Sanchez said with the help of law enforcement residents should be a lot safer. He credited Inyo Public Works Director Ted Pederson and his employee Paul Hancock with their success, along with CHP Captain Tim Lepper and CHP Officer Rich Underwood. Sanchez thanked park general manager Lu Marcos and especially long-time property owner Stan Matlick. "His presence," said Sanchez, "made the difference."