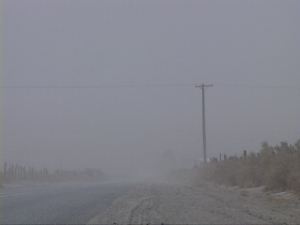 Day-long, severe winds in the Eastern Sierra filled the area with dust and hazards for high profile vehicles Monday.
From Bishop through Keeler, the Air Pollution Control District issued Stage 2 Health Advisories. Our own weather forecaster, Dennis Mattinson said that 80 micro-grams per cubic meter of dust particulates is very unhealthy. He said during the wind events Independence registered 634, Lone Pine, 243 and southeast of Lone Pine near the Owens River, the reading was 1,632, according to Mattinson.
APCD Director Ted Schade said that the source of dust were many areas on the east side of the Owens Valley. He said that the Stage 2 Health Advisory for Bishop was based on particulate readings at the White Mountain Research site out West Line Street. He believed that potentially sites in the Laws area were blowing dust as well as some recently tilled alfalfa fields in the Chalfant area.
Dust was blown by the strong winds on both sides of Independence, obscuring the Sierra and the Inyo Mountains at times. Schade said that in southern Inyo dust was blowing from the Keeler Dunes and from some of the lake bed as well as some spots east of Olancha. The APCD called conditions "extreme particulate pollution levels." The advisory encouraged people to stay indoors and to avoid strenuous outdoor activities in the dust-impacted areas.
The advisory goes on to say that children, the elderly and people with heart or lung problems or people currently ill "may be especially sensitive to Owens Lake dust storms and are advised to stay indoors and avoid strenuous outdoor activities."
Ted Schade also noted that the haze in the area over the weekend was apparently not the result of the Gobi Desert in Asia as it had been a couple of weeks ago. Schade said that high west winds through Smith Valley and through a burned area on the east side of Mono Lake apparently blew dust into the Mammoth Lakes and Owens Valley areas and went toward Arizona.