High winds, blowing dust and a big rig accident gnarled up traffic south of Independence today.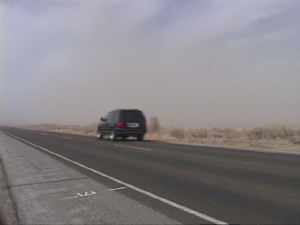 The CHP said that high winds and blowing dust had caused them to close northbound lanes of Highway 395 and escort traffic through.
Some close to the scene said that it appeared the highway widening project provided a lot of the blowing dust that caused visibility problems. That area had blown up big dust clouds last week-end. The highway was never closed but visibility became an issue.
The burned area north of Independence also put up a lot of dust.
Gusts of wind had gone up as high as 60 mph at times. In the midst of the wind and dust, a big wreck had wrecked. No one was hurt but the clean-up caused further highway problems.