(ICSO press release)  On August 10th at about 3:20PM, Inyo County Sheriff's Deputies were dispatched to the Ranch House Cafe in Olancha, California on the report of a suspicious subject refusing to leave.  The subject was later identified as Evan Robert Furubotten, a 25-year old man from Quartz Hill, California.  While Sheriff's Deputies were in route, dispatch advised that the subject left and was heading northbound on U.S. Highway 395 in a white Toyota sedan, and that the vehicle had been reported stolen.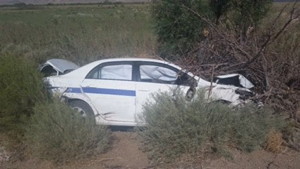 Deputies located the vehicle on northbound U.S. Highway 395 at Cottonwood Road and attempted to initiate an enforcement stop.  Furubotten failed to yield and proceeded northbound at a high rate of speed.  Deputies pursued Furubotten to just south of Lone Pine, but due to the heavy pedestrian and vehicle traffic the pursuit was terminated.  
Furubotten was located just north of Lone Pine and Deputies resumed the pursuit.  Furubotten continued to flee at high speeds in excess of 100 miles per hour. The pursuit was turned over to the California Highway Patrol and Deputies continued to assist as secondary units. 
Spike Strips were positioned on Highway 395 near Fish Springs Road.  As Furubotten approached the area of Fish Springs Road he swerved towards an Inyo County Sheriff's Deputy nearly colliding with the patrol unit;  Furubotten collided with a concrete barrier and the vehicle went off the east side of Highway 395.    
After exiting the vehicle he was taken into custody at gun point without further incident.  Inyo County Sheriff's Deputies arrested Furubotten for  10851(a) VC vehicle theft, 2800.2(a) VC, evading without regard for public safety, 245(a)(1) PC  assault with a deadly weapon,  3056 PC violation of parole, 496(a) PC possession of stolen property, 12500 VC driving without a license.  Furubotten was booked at the Inyo County Jail for the above listed charges.